Why you should look into detailing your car
There's a lot of work that goes into maintaining a car. So with oil changes and brake tests and spark plug replacements, you might not want to think about auto detailing at all. You might even ask why detailing your car is important or if it's worth the expense?
On the surface, car detailing might look like something you do just to give your car some extra shine. But there are some auto detailing benefits to you shouldn't ignore. Not only will your car look FANTASTIC but a thorough detailing will have some personal benefits for you as well.
What Does Car Detailing Include?
Still wondering what car detailing is and what it includes. Every car detailer has their own approach. But when people ask what does car detailing include, most of the steps involved are pretty much the same. The standard treatment is to clean every square inch of the car, both exterior and interior.
Auto detailing requires a multi-step process. The interior and exterior clean up of a vehicle have their own steps. With that said, the way we do it may vary when compared to another, so it's likely to find a slightly different approach adopted by others if you were to shop around.
Exterior
The first thing people notice about the car is what's on the outside. That's why we devote much of their time and attention to a vehicle's body, ensuring it looks its best. working to make it look as good as it can without a new paint job.
Restoring its gloss by means of buffing compounds and glosses is a common focus since the car surface loses its shine with the passing of time. In addition to buffing the car, a detailer will also work on the windows, wheels, tires and rims to make sure they look their best. Dirt, grease, blemishes – they all disappear during the exterior stage – with the help of degreasers and detergents – to ensure a car looks its cleanest.
Interior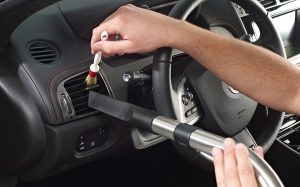 Why is detailing your car interior important? Detailers spend hours cleaning the inside of a car, sometimes even more so than the outside. It's easy for dirt and dust as well as mud and pet hair to collect inside a vehicle over time.
But we have those tools at our disposal. With the combination of steam cleaners, vacuums and brushes, we as professionals can give your car a deep clean that you may not be able to do on your own.
Promotes Good Health
You may think your car can only hold five passengers, but that's not the case. Your vehicle carries millions, if not billions of unseen creatures. Whether you like to picture it or not, germs and allergens flourish in cars. Too much dirt, dust or debris inside your car allows these germs to circulate in your vehicle. A thorough cleaning removes these particles and kills germs, and is another reason why detailing your car is important. So if you get the sniffles and sneeze a lot, you might start to feel better after taking your car to a detailer.
Increase Your Car's Resale Value
You'll have an easier time selling your car if it shines. A shiny and spot-free vehicle is like a person going in for a job interview. The person applying can be the right person for the job, but the employer won't see that if the job applicant looks dirty. Likewise, a car coated with dirt and grime, or an interior laced with stains will push potential buyers away.
**All prices are subject to change based on condition of paint.**
Interior Detailing
Starting at $160
Shampoo seats and carpets
Leather seats get leather treatment and conditioning
Crevice cleaning and interior dressing
Air freshener
Exterior Detailing
Starting at $160
High Speed Compounding to Remove Oxidation & Scratches
Buffing to Remove Swirls
Machine Polish
Hand Wash
Hand Wax
Tar Removal
Wheels Cleaned
Tires Dressed
Black Rubber Trim Dressed
Clean Windows
Full Detailing
Car: $250, Full-Size Van or Truck: $275
Machine Polish
Engine compartment cleaning
Shampoo Seats, Carpets & Mats
Clean Trunk
Hand wash
Hand Wax
Tar Removal
Wheels Cleaned
Tires Dressed
Black Rubber Trim Dressed
Clean Windows
Clean Leather & Vinyl
Clean Dash & Console
Clean Door Jambs & panels